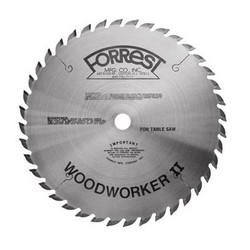 WOODWORKER II saw blades are designed for the advanced table saw operator. MOST MODIFIED WOODWORKER II's ARE IN STOCK AND READY TO SHIP FOR 2-3 BUSINESS DAY DELIVERY!
Custom Woodworker II blades are made with double-hard sub-micron C-4 carbide which is 40% stronger and will give up to 300% longer life between sharpenings.
Features of the WOODWORKER II saw blade:
20° face hook for easy feed
Double-hard and 40% stronger C-4 carbide will give up to 300% longer life between sharpenings
Side wobble is held to .001" - with other brands .004/.010 is common!
Check out which Custom Woodworker II saw blade will work best for your application! IF YOU DON'T SEE WHAT YOU NEED ON OUR SITE GIVE US A CALL AT 716-685-4458.
Specify angle and LEFT or RIGHT TILT in comment section of the check out. Two to three week lead time.
Now offering Concentrated SUPER BRITE Saw Blade Cleaner which quickly cleans pitch and grime from all types of saw blades and router bits for only $14.99. One 16 oz.. concentrate makes over 2-1/2 gallons when diluted as per instructions. Can be continually reused. Comes with convenient spray applicator, full instructions and MSDA sheet (Material Safety Data Sheet).