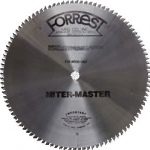 MITER MASTER saw blades are designed for double or single Miter Saws.
These professional quality miter saw blades product tight, perfectly cut miter joints with no bottom splinters
Forrest Miter Master blades work with all makes of double or single miter saws
Tooth Style Recommendations:
#6 - for precision cutting of picture frames,cabinet and furniture parts
#2 - for cutting copper and brass and aluminum extrusions
Specially designed to cut extruded profiles, bars, and plate stock. Triple chip (#2) tooth style, 5 negative face rake, and shallow taper side grind produce smooth sawn edges, minimizing or eliminating burr. MUST be used with cutting lubricant. Clamp the piece being cut to avoid kickbacks.
#7 - for aluminum clad wooden window and door parts
For Miter saws and Radial Arm saws.