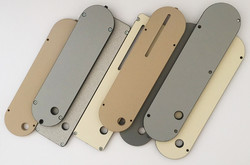 Find the Leecraft Zero-Clearance Insert for your Ridgid Table Saw
Model CR-1 14"L x 3-3/4"W x 3/16"T - Fits Ridgid TS2400, TS2400-0, TS2412, TS2424 and TS3612
Model RG-1 14"L x 3-3/4"W x 1/2"T - Fits Ridgid Cast Iron Top Contractor saw, TS3650 and TS3660
Model RG-2 13-15/16"L x 3-3/4"W x 7/16"T - Fits Ridgid Alloy Top Portable saw, TS2400-1, TS2400LS and TS2410LS
Model RG-3 14"L x 3-3/4"W x 3/8"T - Fits Ridgid R4510 and R45101 with Riving Knife slot
Model RG-4 14"L x 3-3/4"W x 3/8"T - Fits Ridgid R4510 and R45101 WITHOUT Riving Knife slot
Model RG-5 15-1/8"L x 3-3/4"W x 1/8"T - Fits Ridgid R4512 with Riving Knife slot
Model RG-6 15-1/8"L x 3-3/4"W x 1/8"T - Fits Ridgid R4512 WITHOUT Riving Knife slot
Model SC-1 14-11/16"L x 3-3/4"W x 1/2"T - Fits Ridgid R4511 with Riving Knife slot
Model SC-2
14-11/16"L x 3-3/4"W x 1/2"T - Fits Ridgid R4511 WITHOUT Riving Knife slot
SPECIAL PROMOTION - FREE GROUND SHIPPING IN THE US

Make a purchase of $49.00 or more and receive FREE GROUND SHIPPING in the US on select products!
RG-2 Leecraft Zero-Clearance Table Saw Insert 13-15/16"L x 3-3/4"W x 7/16"T Fits RIDGID TS2400-1, TS2400LS, and TS2410LS saws.
Use MicroJig MJ Splitter Kits for added table saw safety. Available in THICK or THIN kerf they are easily installed and simple to align. Not for use with Leecraft inserts that already have the riving knife slot cut in. Intended for inserts WITHOUT the riving knife slot.