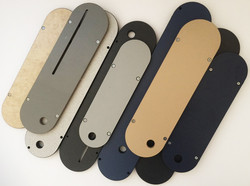 Find the Leecraft Zero-Clearance Insert for your Powermatic Table Saw
Model DL-1U 13-3/8"L x 3-3/4"W x 1/2"T - Fits Powermatic 63
Model JT-164 12-1/2"L x 3-9/16"W - Fits Powermatic models 64 and 64A (left-tilt)
Model JT-5 15-5/16"L x 4-1/4"W - Fits Powermatic PM1000 with riving knife slot
Model JT-6 15-5/16"L x 4-1/4"W - Fits Powermatic PM1000 WITHOUT riving knife slot for dado or angle cuts
Model PM-1 14-7/16"L x 4"W - Fits Powermatic 66 (older models may need some modifications)
Model PM-2 20-5/8"L x 4"W - Fits Powermatic 72A
Model PM-3 17-5/8"L x 4"W - Fits Powermatic 72 rounded end
Model PM-4 26-1/8"L x 4"W - Fits Powermatic 74A
Model PM-5 17-7/8"L x 4"W - Fits Powermatic models 68 and 72 rectangular end
Model PM-6 17-7/8"L x 4-1/4"W - Fits Powermatic PM2000 with riving knife slot
Model PM-7 17-7/8"L x 4-1/4"W - Fits Powermatic PM2000 WITHOUT riving knife slot
SPECIAL PROMOTION - FREE GROUND SHIPPING IN THE US

Make a purchase of $49.00 or more and receive FREE GROUND SHIPPING in the US on select products!
#PM-5 17-7/8"L x 4"W Leecraft Zero Clearance Table Saw Insert for Old Powermatic 72 & 68 (rectangular - flat ends)
Use MicroJig MJ Splitter Kits for added table saw safety. Available in THICK or THIN kerf they are easily installed and simple to align. Not for use with Leecraft inserts that already have the riving knife slot cut in. Intended for inserts WITHOUT the riving knife slot.