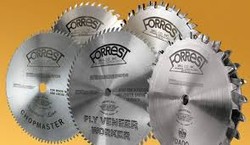 DESIGNED FOR THE DISCRIMINATING WOODWORKER!

We have combined the most popular Forrest blades for extra savings over our already discounted prices. Take advantage of these savings!
GREAT DEAL! This assortment includes the NEW 40 Tooth Woodworker II, the NEW 10x90 Chopmaster Signature Line along with a 5" Dampener/Stiffener. SAVE $10.85 OFF OUR ALREADY DISCOUNTED PRICES! Please indicate in the comment section of the check out section which Woodworker II kerf size you want, 3/32" or 1/8".