Hole Saws CMT Multi-Purpose Hole Saw 550 Series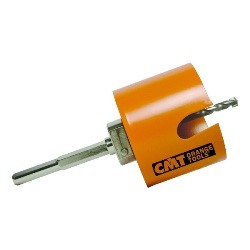 TECHNICAL FEATURES:
Perfect round back plate.
Fast & easy center drill change.
Large chip clearance slots.
Long lasting construction grade carbide Cutting teeth are made of a special formulated construction grade carbide which provides a longer cutting life. Secured tooth technology is a result of the latest technology, teeth are secured to prevent any breakage during impact with hard materials.
CMT's carbide-tipped multi-purpose hole saws are mentioned by WoodWorker's Journal at the following link.