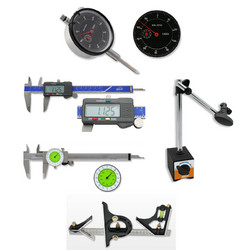 Explore a variety of measuring tools from Oshlun. These tools offer precision accuracy and incredible durability. Choose from Stainless Steel Digital Calipers, Stainless Steel Dial Calipers, Indicators and Gages, a Heavy Duty Magnetic Base, and 12" Combination sets.
Oshlun guarantees all of their products against defects in material and workmanship for the life of the product. This does not include normal wear and tear or improper usage.
FEATURES
Range: 0 - 1"
Satin Chrome Finish
1/4" Lug Back
3/8" Stem
High Visibility Black Face
Revolution Counter
Continuous Dial
Dial Diameter: 2-1/4"
Measurement: SAE
4-48 Threads
Oshlun MTM-DI 0 to 1-Inch Dial Indicator WITH SAE high visibility black face dial indicator has a satin chrome finish and continuous dial with easy to read white numbers. The face is an AGD Size 2 measuring 2-1/4-inch and has an easy to read revolution counter. The dial face or bezel can be rotated to set zero anywhere on the dial and has a bezel clamp to lock the dial in place. The range per revolution is 0.100-inch, with an accuracy of +/- 0.001-inch, graduated in 0.001-inch increments (0 - 100). Also features a lug back with a 1/4-inch diameter hole for mounting in indicator holders, stands and magnetic bases, however, it can also be mounted using its standard 3/8-inch diameter mounting stem.
Three $5.00 OFF Sharpening Coupons Included with purchase.