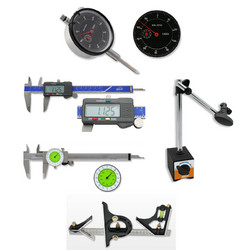 Explore a variety of measuring tools from Oshlun. These tools offer precision accuracy and incredible durability. Choose from Stainless Steel Digital Calipers, Stainless Steel Dial Calipers, Indicators and Gages, a Heavy Duty Magnetic Base, and 12" Combination sets.
Oshlun guarantees all of their products against defects in material and workmanship for the life of the product. This does not include normal wear and tear or improper usage.
FEATURES
Also Known as Saw Set Gauge
Used to Measure the Tangential and Radial Side Clearance of Circular Saw Blades
Range per Revolution: 0.040"
Plastic Storage Case
Oshlun MTM-SD Side Dial Gauge (Set Gauge) is a must have for any saw sharpener or saw shop. Great for making sure your carbide tips are centered properly on the blade body when re-tipping and perfect for checking the tangential and radial side clearance (side grinding) to make sure everything is within the needed tolerances. Can also be used for checking the tooth set on steel circular saw blades and hand held saws. The range per revolution is 0.040-inch, with an accuracy of +/- 0.001-inch, graduated in 0.001-inch increments (0 - 80).
Three $5.00 OFF Sharpening Coupons Included with purchase.