Saw Blades AMANA TOOL Dado Sets & Groovers Amana 8"x24T Dado Set, 5/8" Hole, -5 Hook, 1/4 to 13/16" Range - $15.00 OFF Sharpening Offer Included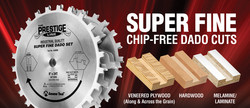 Carbide Tipped Dado Saw Blades
Industrial quality, high-performance dado sets and accesories. A stacking dado set is an ideal tool for cutting dadoes and grooves as well as tenons for strong mortise-and-tenon joinery. Amana's Prestige™ Super Find Dado set features:
Anti-kickback design to help prevent overfeeding
Smooth, perfect flat-bottom grooves that are free of splinters & rough edges
Massive steel tool-steel plates and precision ground D-10 carbide teeth
Choose from Amana's large selection of Dado Sets and Accessories.
1/8" to 13/16" Groove ATB and FT Grind Set consists of two outside saw blades and four inside chippers. Outside saw blades feature hollow-ground plates for proper clearance, and alternate top bevel grind (ATB) with every sixth tooth flat ground (FT).
Perfect for Half Lap, Tenon, Dentil, Groove & Rabbet, Corner Lap, End Lap and Ship Lap (Shiplap) cuts.