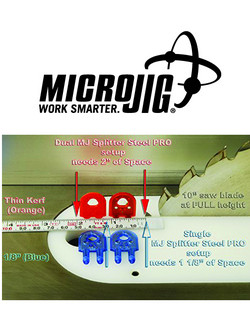 Table saw splitter safety is easy with MicroJig's award-winning splitters. Their patented design makes them simple to install and simple to align. Remove and Remount in 2 seconds and you're ready to go.
The MJ Splitter is designed to be an affordable alternative that will dramatically increase your table saw safety. It's simple to use design makes it easier than ever to achieve optimal safety on the table saw. No more excuses. Get safe.
Choose from the basic MJ Splitter or the MJ Splitter SteelPro. Both are simple to align. Just "Plug n' Play." Available in 1/8 inch kerf or thin kerf styles. We offer extra inserts for the basic kits.
Use with Leecraft Zero-Clearance inserts for optimum use. Not intended for inserts that feature a riving knife slot.
These are made with a rigid stainless steel frame and then the steel foundation is coated with high density 100% polycarbonate. The result: one tough splitter. Micro Jig designed the MJ Splitter™ SteelPro to withstand the severe table saw use of a professional woodworking shop. Whether you're working with heavy panels or dense solid wood, the SteelPro will give you the strength to cut them with confidence and, most important, safety.
The MJ Splitter SteelPro is the toughest splitter ever. Great to use with Leecraft Zero-Clearance inserts.
Three $5.00 OFF Sharpening Coupons Included with purchase.