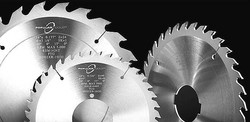 Glue Joint Rip Blades are designed for ripping solid wood when you require an extra-smooth cut such as cutting solid pieces that will be glued together. The tight manufacturing tolerances of Popular Tool blades and a runout of .002" or less, will provide smooth rip cuts.
Blades have a 20º hook angle and should be used for rip cuts only. Glue joint rip saw blades can be bored out to fit most gang rip saws.
NEW! Popular Tools 10 x 40T Premium Combination saw blade. Great for high precision ripping as well as crosscut on softwood and hardwood alike. Super tight tolerance with planer radial angle clearance for fine finish. Micro-Sheen C-4 sub-micron carbide provides for long life between sharpening. One blade does it all!
Three $5.00 OFF Sharpening Coupons Included with purchase.