Deal of the Day Deal of the Day! SUPER BRITE Concentrated All-Purpose Pitch & Gum Remover 1-pt.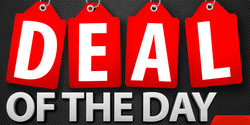 Take advantage of these daily specials!
SUPER BRITE concentrate is a convenient way to maintain the high performance of your wood cutting saw blades, shaper cutters and router bits by easily removing pitch and gum. Bottle contains 16-oz. of pre-mixed solution which can be used directly on blades, etc. or also be diluted for soaking. Includes spray applicator. Follow directions for regular, heavy duty or soaking applications.