Saw Blades OSHLUN SAW BLADES Steel & Ferrous OSHLUN Steel & Ferrous Metal Cutting, 5-3/8" x 50T, 20mm Hole with 5/8" & 10mm Bushings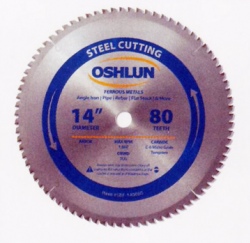 Made by OSHLUN
FEATURES

Professional Grade C-6 Carbide
Laser Cut Expansion Slots

Triple Chip Grind

Precision Ground Carbide Tips

Tensioned & Hardened Steel Plate

Surface Ground Steel Plate
These ferrous blades have been designed with a durable C-6 carbide grade and triple chip tooth grind to ensure a long cutting life in ferrous metals, such as: steel studs, angle iron, pipe, rebar, channel, flat stock, conduit, and much more. They can also be used for cutting non ferrous metals, such as: aluminum, copper, and brass. The specially formulated micro grain carbide tips with titanium and tantalum last longer and leave a burr free cut with little to no sparks or dust, commonly associated with abrasives. They also cut 5 to 10 times faster and last up to 30 times longer than abrasives, allowing fewer blade changes and increased production.

Notes: Blades with more teeth are generally better suited for thinner material, while those with less teeth are better suited for thicker material. Item's SBF-054050 and SBF-072568 have been designed for very thin stock and sheet metal.
#SBF-054050 5-3/8" x 50T, 20mm Hole with 5/8" & 10mm Bushings Oshlun Steel & Ferrous Metal Cutting Saw Blade. Maximum RPM 4,200.

WARNING: Not recommended for cutting hardened materials or stainless steel. Never use on saws that run above the rated MAX RPM. Proper clamping devices should be employed. Follow all safety instructions provided with your saw.
Designed for Bosch, DeWalt, Makita, Panasonic, Skil and 5-1/2" Ryobi saws.
Three $5.00 OFF Sharpening Coupons Included with purchase.