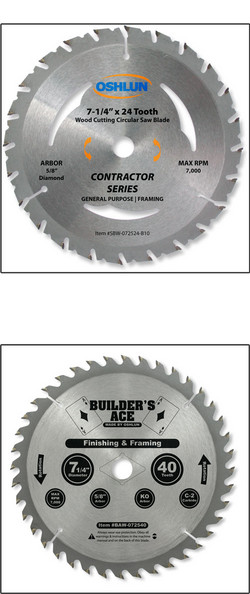 7-1/4" CONTRACTOR SERIES
Thin Kerf for Fast Cuts
Long Lasting C-2 Micro Grain Carbide
Aggressive Hook Angle
Anti-Kickback Tooth Design
Large Heat Vents
Expansion Slots to Prevent Warping
The 7-1/4" Contractor Series blade was designed for general purpose and framing work with various portable saws, including worm drives. It features an anti-kickback tooth design for added safety and large heat vents for cooler operation resulting in extended blade life. Also features a thin kerf for fast cuts, long-lasting C-2 micro grain carbide tips, and expansion slots. Great mid-level blade for general purpose work and framing jobs. Packaged 10 pcs bulk per counter display.
BUILDER'S ACE SERIES
Thin Kerf for Fast Cuts
C-2 Tungsten Carbide Tips
Aggressive Hook Angle
Alternate Top Bevel Grind
Precision Ground Carbide Tips
The Builder's Ace Series blades have been designed as a low cost option for general purpose and finishing work with various saws. They all feature C-2 tungsten carbide tips and a thin kerf for fast cuts. The 10" blades also feature expansion slots. Great blades for budget minded contractors.
Thin kerf for fast cuts
Construction grade C-2 carbide
Aggressive hook angle
Precision ground carbide tips
Alternate top bevel grind
Oshlun BAW-100040 10-Inch 40 Tooth Builder's Ace General Purpose ATB Saw Blade with 5/8-Inch Arbor. Designed for quality cuts at an affordable price. They feature C-2 tungsten carbide tips, expansion slots, and a thin kerf for faster cutting. Your best inexpensive blade option.
Three $5.00 OFF Sharpening Coupons Included with purchase.