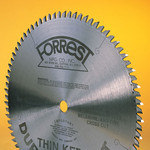 Duraline saw blades are available in different tooth styles to meet different needs. ATB and TCG for wood cut easier and less smooth than Woodworker II due to wider relief angles. TCG for plastic cuts smoother than NoMelt due to narrower clearance angles. Use #11 TCG to prevent chipping edge of acrylic sheet. Also keep blade height low if on table saw.
Made with double-hard C-4 Submicron Carbide for longer life between sharpenings.
DURALINE Advantages:
50% to 300% longer life between sharpenings
Less machine downtime
Improved labor efficiency
Inventory savings - fewer blades required
Tooth Style Recommendations:
#11 (TCG Modified) - for extra fine, chipless sawing of all acrylics, styrenes, plastic sheets, etc.
#2 (TCG) - for fine sawing of ABS, acrylics, phenolics, polycarbonate, PVC and general purpose wood cutting
#7 (ATB) - for fine sawing of flakeboard, fibreboard, hardboard, plywood, wood cross cutting and mitering
Some Duraline blades in stock. Allow 2-5 week lead time for most blades.
These saws are designed for general sizing and cutting of natural woods. A higher number of teeth provides a finer edge to the cut.